Affordable Quality Makeup
Sounds delicious, doesn't it?
Could something so incredible even exist?
Psst — I've got a secret. It's right under your nose.
Get makeup that's:
High-Performing
Skincare-Infused
100% Vegan
Cruelty-Free
Clean
without breaking your bank.
Not a great look
I was excited to receive these, but was a bit disappointed when I tried them. I got the gold and pink colors and you can't see them on the eye. It's a bit greasy and creases almost immediately. Bummer.
Dear Gina, it means so much for us to hear your experiences and we are sad that our eye crayon fell short of your expectations. From personal experience, we notice the condition of skin (dry vs. oily) and even the weather can affect the staying power of eyeshadows. (FYI - we have eye primer in our line that enhances pigment and extends the life of any eyeshadow looks :) We stand behind our every product and offer 90 days satisfaction guarantee. If you would like to return the eye crayons, please don't hesitate to reach out at hello@m2unyc.com. Thank you again for giving us a try!
So smooth and very pigmented!
I've gotten 3 of the eye crayons and let me tell you, they did not let me down. They go on so smooth and last all day. I can create a full eyelook in under 2 mins. I highly recommend these for get out the door quickly summer makeup!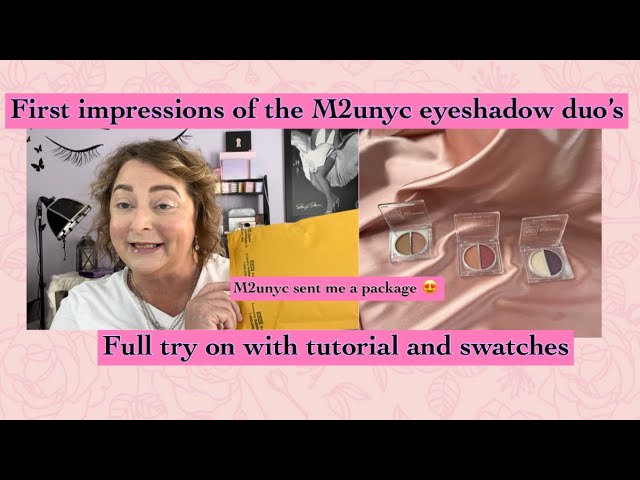 So chic
I love the beautiful shimmery green of Greenwich V! Great application and beautiful wear! Can't wait to add more colors to my collection
M2u crayons
I'm obsessed with them !!
Beautiful
The crayon is affordable and beautiful. Lasts long
Pigmented!
I love how it turned out on my skin, it gives a lovely glow for the Summer dewy look!
Loving my coverage
I previously received this as part of a gift and I loved it. I have used it all summer as a bronzer/foundation and it looks fabulous ❤️‍🔥❤️‍🔥❤️‍🔥
Love wearing it!
My favorite! I have several shades. Blends nicely.
Luminizer
I received a sample in my Ipsy bag. I love how the product is easy to apply, goes on smoothly and makes my skin look radiant and dewy. It helps me look younger as I am 65. I have received compliments on how nice my skin looks. I love it and will continue to purchase more.
Luminizer
Let just say I was very impressed with this products. A little goes a long way. Moon reminds me of Pat McGrath new highlighter. The quality is there and I love how easy it is to apply. My audience was sold when I featured it in one of my Supergreat lives. Very happy with this products
Best little travel friendly blush ever!
I recently got to try this blush and I must say I loved it. It's nice and pigmented and it's so travel friendly, it lasted all day and I loved the color. I highly recommend!
Highly pigmented and stays put
This cream stick blush is beautiful and has so much pigment. Very little is needed, it stays on all day and blends so easy. I got the shade Spring Dust, a pretty coral shade. I'm going to need to go back and get another color!
Love the blush!
Great pigmentation of the blush. Mind you, you just need a little to get this blush on. It's soft and creamy. Very easy to work with.
Amazing 💗💗💗
I love this blush . Its so creamy and super pigmented. A little goes a long way. At first i had applied directly on my cheek lol but it was way too much. But than I've started applying it on my brush and than apply to my cheek. It gives a beautiful look. Im so happy using this blush. Packaging is super cute and very easily can carry anytime/anywhere. Definitely recommend
Beautiful
I really love this color and how smoothly it goes on. It looks very natural and feels good on my skin.
Great lipstick!
I love the color and how easy it is to put on. I really like a matted lipstick and this one is perfect. I will be buying other shades now
Pillow Talk who?
Velvety matte comfort. I did have to reapply after eating an oily pasta salad, but that was not unexpected. The shade I purchased is a very nice pinky-nude that covered my naturally pigmented lips extremely well. It really is luxury-quality makeup at drugstore prices.
Love this!!
Such an amazing product and it lasts really well! Will buy again
Would like to see more colors
Wow! Great lipstick! My favorite colors are Orange Juice and Milk Tea, they are both lovely. They have a nice texture and light scent, but I would like to see more colors.
Maybe a rose pink and coral? Thank you for making such great lipstick. 💋
A beautiful color and smooth application
I love the color and how silky it feels!
Wow
Goes on easy, wears easy, not drying. Startlingly little transfer. I touched up after lunch because I wanted to, not because I needed to.
Good Fall Lip
I have this in the shade Queensboro. It's a nice mix of mauve and brown. It's pretty much my go to color for fall. It is very hydrating and applies very smoothly. It does have a pretty lasting effect too which is nice when I'm out late.
Eyeshadow Palette
This is an awesome pallet I have oily eyelids and it stayed on untill I took it off . It's very nice
New fave!
I love the colors , quality and price of this eyeshadow. It goes on so smoothly and lasts all day.
Beautiful!
Every color is this palette is gorgeous and it's every color I need on a daily basis. The colors are pigmented and I love the adorable, compact and eco friendly packaging.
Love it!
I have avoided eye makeup, except mascara, for several years as I never felt confident I knew what I was doing or what colors would work on me. The price & packaging caught my eye, then the colors. I watched some tutorials & tried each color. I love the colors! I love how well they blend. I went from eyeshadow newbie to wearing it every time I go out & getting compliments! On a video chat with my sister, my brother-in-law asked what filter I was using. No filter! I was wearing m2u makeup! I've since bought 2 more.
Beautiful!
Such a great neutral palette! Awesome value!
Looking and feeling gorgeous isn't up for debate
But why is makeup so freaking expensive? 
Listen up, beautiful people. You shouldn't be paying ridiculous prices, sacrificing your standards, or passing on the latest trends.
That's why we're here: vegan, cruelty-free, and clean makeup at mind-blowing prices.
SHOP NOW
Made with vitamin E & rosehip oil
Hydrating Liquid Blush
Our skincare-infused Liquid Blush gives you a sun-kissed glow your skin will love!

That's right — you get to look fresh-faced and beautiful while your skin gets the royal treatment.
BUY NOW
Quality is our top priority
High quality doesn't have to mean high prices. There are ways to make affordable, high quality cosmetics.
And we've got that New York City vibe to give our products a modern edge.

Why did we start M2U NYC?
We're glad you asked.
our story
100% SATISFACTION GUARANTEE!
You'll love us or your money back!
Quality is our #1 priority. All our products are vegan, paraben free, and made with 100% FDA approved ingredients. We take our formula seriously and we stand behind our every product. If you aren't happy with your purchase, just return within 90 days for a full refund less shipping!
Amazing cream blush

This is my new favorite cream blush!! its comparable to glossier cloud paint but wayyyyy cheaper and easier to blend. It's super buildable and last for hours even when it's hot.

Paula Piva
New favorite highlighter

I can't believe how great this looks! It gives a natural glow that doesn't look too glittery. A little bit goes a long way. The application is easy too! Love this product.

Brenna
Just what I wanted

These were perfect. I got 3 eye crayons and all apply well and worked with my skin tone. The customer service was outstanding, exceeded my expectations. Will definitely be buying more.

Ainsley
So moisturizing!

I have Nars lipsticks, Clinique, Bare Minerals, and none of them feel like this lipstick does. I've heard people say that about lipstick, like you can't even feel it when you put it on, but I've never experienced it until now. I'm definitely going to buy more shades.

Kate Berrinhout
Working on getting them all

This is hands down my new favorite lipgloss. I loved it so much I now have 4! They are so smooth & moisturizing! The best part is they are NOT STICKY!!!! I am so glad I checked out M2U NYC!

Heaven Hartline